Mounted Points - W Shapes
KASCO mounted points are made with premium aluminum oxide grains and a strong vitrified bond. Used for grinding and deburing metals. These points are available in a variety of grits and bonds. Standard shank length is 1½". W shapes have both 1/4" and 1/8" shanks depending on the size.
Download a printable catalog page for these shapes.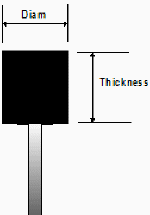 | | | | |
| --- | --- | --- | --- |
| Shape | Diam | Thick | Shank |
| W141 | 3/32 | 5/32 | 1/8 |
| W142 | 3/32 | 1/4 | 1/8 |
| W143 | 1/8 | 1/8 | 1/8 |
| W144 | 1/8 | 1/4 | 1/8 |
| W145 | 1/8 | 3/8 | 1/8 |
| W146 | 1/8 | 1/2 | 1/8 |
| W149 | 5/32 | 1/4 | 1/8 |
| W151 | 3/16 | 1/8 | 1/8 |
| W152 | 3/16 | 1/4 | 1/8 |
| W153 | 3/16 | 3/8 | 1/8 |
| W154 | 3/16 | 1/2 | 1/8 |
| W157 | 1/4 | 1/16 | 1/8 |
| W158 | 1/4 | 1/8 | 1/8 |
| W159 | 1/4 | 3/16 | 1/8 |
| W160 | 1/4 | 1/4 | 1/8 |
| W161 | 1/4 | 5/16 | 1/8 |
| W162 | 1/4 | 3/8 | 1/8 |
| W163 | 1/4 | 1/2 | 1/8 |
| W164 | 1/4 | 3/4 | 1/8 |
| W165 | 5/16 | 1/16 | 1/8 |
| W166 | 5/16 | 1/8 | 1/8 |
| W167 | 5/16 | 1/4 | 1/8 |
| W168 | 5/16 | 5/16 | 1/8 |
| W169 | 5/16 | 3/8 | 1/8 |
| W170 | 5/16 | 1/2 | 1/8 |
| W171 | 5/16 | 3/4 | 1/8 |
| W172 | 3/8 | 1/16 | 1/8 |
| W173 | 3/8 | 1/8 | 1/8 |
| W174 | 3/8 | 1/4 | 1/8 |
| W175 | 3/8 | 3/8 | 1/8 |
| W176 | 3/8 | 1/2 | 1/8-1/4 |
| W177 | 3/8 | 3/4 | 1/8-1/4 |
| W178 | 3/8 | 1 | 1/8-1/4 |
| W179 | 3/8 | 1-1/4 | 1/8 |
| W181 | 1/2 | 1/16 | 1/8 |
| W182 | 1/2 | 1/8 | 1/8 |
| W183 | 1/2 | 1/4 | 1/8 |
| W184 | 1/2 | 3/8 | 1/8-1/4 |
| W185 | 1/2 | 1/2 | 1/8-1/4 |
| W186 | 1/2 | 3/4 | 1/8-1/4 |
| W187 | 1/2 | 1 | 1/8-1/4 |
| W188 | 1/2 | 1-1/2 | 1/4 |
| W189 | 1/2 | 2 | 1/4 |
| W190 | 5/8 | 1/16 | 1/4 |
| W191 | 5/8 | 1/8 | 1/4 |
| W192 | 5/8 | 1/4 | 1/8-1/4 |
| W193 | 5/8 | 3/8 | 1/8-1/4 |
| W194 | 5/8 | 1/2 | 1/8-1/4 |
| W195 | 5/8 | 3/4 | 1/8-1/4 |
| W196 | 5/8 | 1 | 1/4 |
| W197 | 5/8 | 2 | 1/4 |
| W198 | 5/8 | 2-1/2 | 1/4 |
| W199 | 3/4 | 1/16 | 1/4 |
| W200 | 3/4 | 1/8 | 1/4 |
| W201 | 3/4 | 1/4 | 1/4 |
| W202 | 3/4 | 3/8 | 1/8-1/4 |
| W203 | 3/4 | 1/2 | 1/8-1/4 |
| W204 | 3/4 | 3/4 | 1/8-1/4 |
| W205 | 3/4 | 1 | 1/4 |
| W206 | 3/4 | 1-1/4 | 1/4 |
| W207 | 3/4 | 1-1/2 | 1/4 |
| W208 | 3/4 | 2 | 1/4 |
| W209 | 3/4 | 2-1/2 | 1/4 |
| W210 | 7/8 | 1/16 | 1/8 |
| W211 | 7/8 | 1/8 | 1/8 |
| W212 | 7/8 | 1/4 | 1/8-1/4 |
| W213 | 7/8 | 3/8 | 1/8-1/4 |
| W214 | 15/16 | 1/4 | 1/8-1/4 |
| W215 | 1 | 1/8 | 1/8-1/4 |
| W216 | 1 | 1/4 | 1/8-1/4 |
| W217 | 1 | 3/8 | 1/4 |
| W218 | 1 | 1/2 | 1/4 |
| W219 | 1 | 3/4 | 1/4 |
| W220 | 1 | 1 | 1/4 |
| W221 | 1 | 1-1/2 | 1/4 |
| W222 | 1 | 2 | 1/4 |
| W223 | 1 | 2-1/2 | 1/4 |
| W224 | 1 | 3 | 3/8 |
| W225 | 1-1/4 | 1/4 | 1/4 |
| W226 | 1-1/4 | 3/8 | 1/4 |
| W227 | 1-1/4 | 1/2 | 1/4 |
| W228 | 1-1/4 | 3/4 | 1/4 |
| W229 | 1-1/4 | 1 | 1/4 |
| W230 | 1-1/4 | 1-1/4 | 1/4 |
| W231 | 1-1/4 | 1-1/2 | 1/4 |
| W232 | 1-1/4 | 2 | 1/4 |
| W235 | 1-1/2 | 1/4 | 1/4 |
| W236 | 1-1/2 | 1/2 | 1/4 |
| W237 | 1-1/2 | 1 | 1/4 |
| W238 | 1-1/2 | 1-1/2 | 1/4 |
| W239 | 1-1/2 | 2 | 1/4 |
| W242 | 2 | 1 | 1/4 |
| W243 | 2 | 1-1/2 | 1/4 |
| W244 | 2 | 2 | 1/4 |
Back to top