Paper Discs - PSA Adhesive Back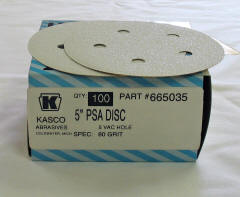 KASCO stearated aluminum oxide paper PSA discs provide high quality finishing for a wide variety of woodworking, automotive, and painted applications. 100 discs per box except 40 grit is 50. Discs have tabbed parting paper. Premium D or C weight paper.
Download a printable catalog page for these shapes.
5" DISCS
Grit
Wt
Disc/Box
5" No Hole
5" - 5 Hole
5" - 8 Hole

40

D

50

665062

665033

665018

60

D

100

665063

665034

665019

80

D

100

665064

665035

665020

100

D

100

665065

665036

665021

120

D

100

665066

665037

665022

150

C

100

665067

665038

665023

180

C

100

665068

665039

665024

220

C

100

665069

665040

665025

240

C

100

665070

665041

665026

280

C

100

665071

665042

665027

320

C

100

665072

665043

665028

400

C

100

665073

665044

665029

600

C

100

665074

665045

665030
6" DISCS
Grit
Wt
Disc/Box
6" No Hole
6" - 6 Hole
6" - 8 Hole

40

D

50

665200

665214

665228

60

D

100

665201

665215

665229

80

D

100

665202

665216

665230

100

D

100

665203

665217

665231

120

D

100

665204

665218

665232

150

C

100

665205

665219

665233

180

C

100

665206

665220

665234

220

C

100

665207

665221

665235

240

C

100

665208

665222

665236

280

C

100

665209

665223

665237

320

C

100

665210

665224

665238

400

C

100

665211

665225

665239

600

C

100

665212

665226

665240