Nonwoven Surface Conditioning Discs - Quick Change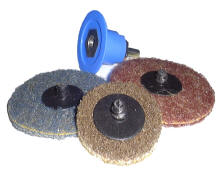 KASCO Abrasives nonwoven nylon surface conditioning discs provide excellent surface cleanup and finish on ferrous and nonferrous metals. They can also be used on many other materials like plastics and wood. Available in two attachment styles, Velcro® hook & loop style and "Roll-On" Type R plastic threaded button style.
| | |
| --- | --- |
| Gold | COARSE for maximum surface cleaning |
| Maroon | MEDIUM for most general purpose applications |
| Blue | FINE for light material removal and the good finish |
| Gray | VERY FINE for polishing and the best finish |
Download a printable catalog page for these shapes.
DIAMETER
PACK
GRADE
COLOR
PART NO
1½"
50
COARSE
Gold
680060
MEDIUM
Maroon
680061
FINE
Blue
680062
VERY FINE
Gray
680063
2"
50
COARSE
Gold
680027
MEDIUM
Maroon
680029
FINE
Blue
680069
VERY FINE
Gray
680031
3"
50
COARSE
Gold
680033
MEDIUM
Maroon
680035
FINE
Blue
680070
VERY FINE
Gray
680037
4"
50
COARSE
Gold
680039
MEDIUM
Maroon
680041
FINE
Blue
680071
VERY FINE
Gray
680043