Flap Wheels - Mounted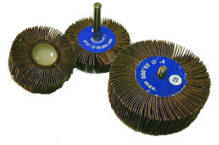 KASCO mounted flap wheels are offered in two grades. General purpose wheels come in larger packs and have slightly less flaps. They are ideal for most applications. Premium flap wheels are for demanding jobs. All have a 1/4" steel shank.
For interleaved flap wheels click here.
Download a printable catalog page for these products
Premium Flap Wheels (1/4
" Shank)
Can also be special ordered with a 1/4-20 threaded shank.
| | | | | | | | | |
| --- | --- | --- | --- | --- | --- | --- | --- | --- |
| SIZE (D x H) | PACK | 40 | 60 | 80 | 120 | 180 | 240 | 320 |
| 3/4 x 3/4 | 20 | 851385 | 851386 | 851387 | 851388 | 851389 | 851390 | 851391 |
| 1 x 5/8 | 20 | - | 851400 | 851401 | 851402 | 851403 | 851404 | 851405 |
| 1 x 1 | 20 | 851407 | 851408 | 851409 | 851410 | 851411 | 851412 | 851413 |
| 1½ x 1/2 | 20 | 851414 | 851416 | 851417 | 851418 | 851419 | 851420 | - |
| 1½ x 1 | 20 | 851423 | 851424 | 851425 | 851426 | 851427 | 851428 | 851429 |
| 2 x 1/2 | 20 | 851431 | 851432 | 851433 | 851434 | 851435 | 851436 | 851437 |
| 2 x 3/4 | 20 | 851438 | 851440 | 851441 | 851442 | 851443 | - | - |
| 2 x 1 | 20 | 851446 | 851448 | 851449 | 851450 | 851451 | 851452 | 851453 |
| 2 x 1½ | 20 | 851510 | 851511 | 851512 | 851513 | - | - | - |
| 2 x 2 | 20 | 851502 | 851504 | 851505 | 851506 | 851507 | - | 851508 |
| 2½ x 1/2 | 20 | - | 851456 | 851457 | 851458 | - | 851460 | - |
| 2½ x 1 | 20 | 851463 | 851464 | 851465 | 851466 | 851467 | 851468 | 851469 |
| 2½ x 1½ | 20 | - | 851516 | - | - | - | - | - |
| 3 x 1/2 | 20 | 851471 | 851472 | 851473 | 851474 | 851475 | 851476 | 851477 |
| 3 x 1 | 20 | 851479 | 851480 | 851481 | 851482 | 851483 | 851484 | 851485 |
| 3 x 1-1/2 | 20 | - | 851494 | 851495 | 851496 | 851497 | 851498 | 851499 |
| 3 x 2 | 20 | 851486 | 851488 | 851489 | 851490 | 851491 | - | - |