Resin Fiber Discs
Download a printable catalog page for these discs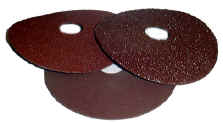 Type "C" ALOX
A good quality general purpose resin fiber disc for many applications. Not recommended for stainless steel work. Use where disc price is most important.
Type
"A" ALOX
A premium quality resin over cloth fiber disc recommended for most metals including stainless steel. A special grinding additive provides cool performance.
Type "AZF" ZIRCONIA
Alumina zirconia (BLUE) for extra long life on tough jobs. Excellent on stainless steel. The best value for heavy production work.
Type "S" SILICON CARBIDE
Silicon carbide is recommended for use on granite, marble, masonry, and other non-metallic materials.
Quick
Change

All resin fiber discs can be ordered with a 5/8-11 metal hub. Add $0.40 to the list price. Minimum order is 1,000 discs of the same diameter. Allow 3-4 weeks for shipment.